Grips
The thin OEM rubber grips were just too hard and small to be comfortable for me. I've found this true for Honda's OEM grips too. Right away I knew they had to go.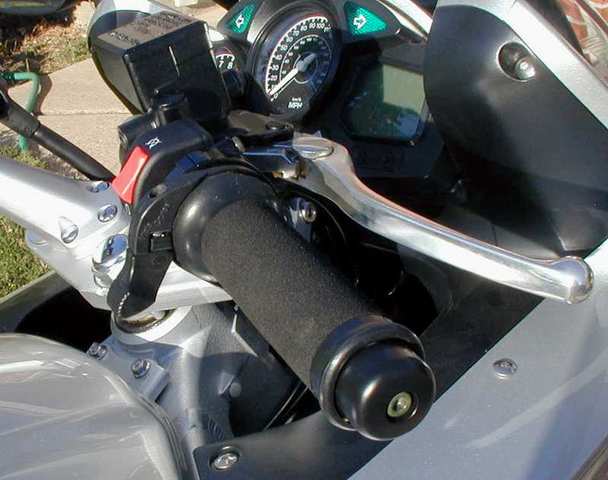 My first choice was a set of J.C. Whitney foam "touring grips" that cost $5. They worked okay for about the first year, but self-destructed half way through the 2003 Iron Butt Rally. All it took was one really good rain storm and they started acting like sponges. When it happened in the past they were able to dry out before getting any additional serious use but there was no rest for them durring The Rally. They ended up twisting around on their bases.
I replaced them with a set of Pro-Gel grips in Buxtom, Maine. The diameter was too small and they looked like they belonged to a $10 hooker, but at least they got me to the finish line.
When I got home, I took Dale Wilson's advice and replaced them with a set of BMW Sport grips. The larger outside diameter helps fit the reduced grip area of the little fingers of the hand and aid in keeping a relaxed grip so that fatigue doesn't set in as quickly. Each replacement was about a 15 minute job. Of all the grips I've tried so far the BMW Sport grip is the best. They are probably the least expensive item BMW sells.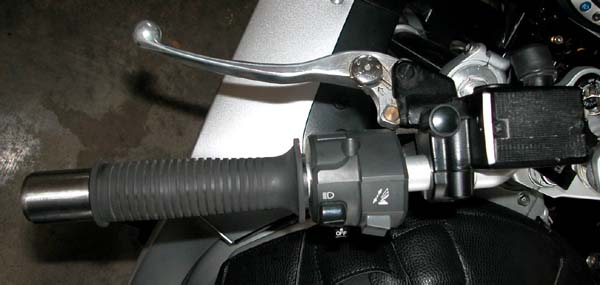 Left Grip Before Moving Control Pod Outboard
The Sport Grips are shorter than the OEM FJR grips and leave a gap unless you move the control pods or use spacers.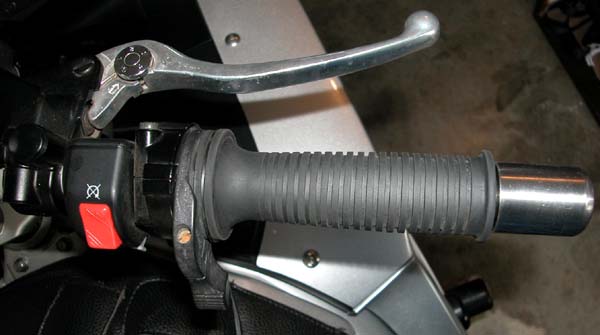 Right Grip With Vista Cruise & Spacer
I moved the left control pod but I opted to us spacers on the right because of the Vista Cruise.
All material on this site (c) 1995 - Present, Mark Johnson. All rights reserved.