Texas Ranch Art
Izzy, Rick (one of Izzy's friends) and I went for a little ride today. Can you imagine me leading anyone anywhere? We found lots of fun curvy roads and I eventually found the "hidden treasure" that I was trying to surprise them with.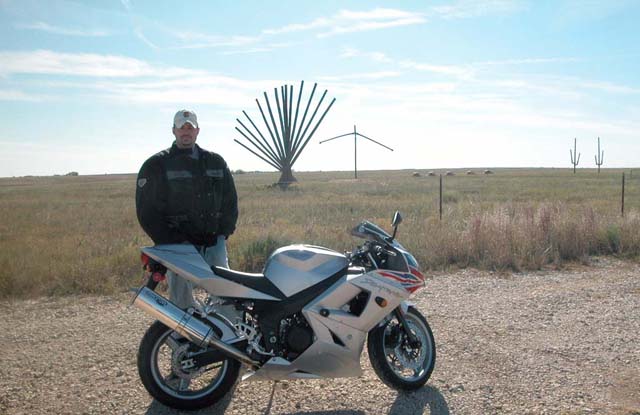 For those that haven't seen them before, the "sculptures" are about 100 yards behind the fence and stand dozens of feet tall. For comparison, look at the row of 5 "bumps" to the right. Those are classic VW Beetles that are dwarfed by the rancher's hobby of making giant sculptures out in the middle of his "working ranch".
The "fan" is made of telephone poles. The rest are metal sculptures. The tripod looking thing on top of the pole must be 40' in the air and is balanced on the pole so that it moves with the wind like a weather vane. The cacti to the far right are probably 20 feet tall.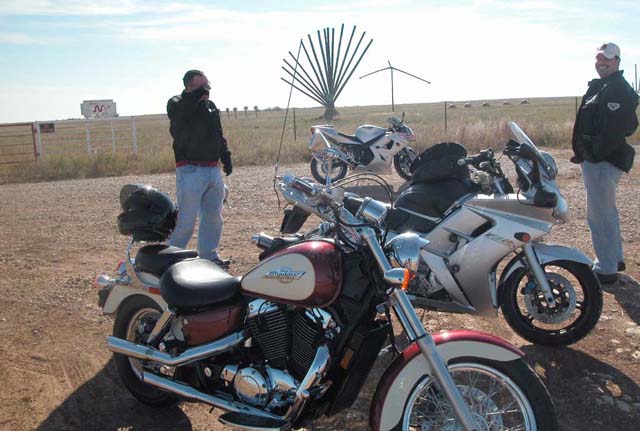 In this second photo, Rick is on the left. Rick's bike is in front, mine in the middle and Izzy's in the back.
It was a 200 mile day. I think they expanded their envelope in doing so. We got Izzy out past his comfort zone on how close he was to running out of gas without a gas station "right there" (like when in town). I was expecting to get gas in Montague. We didn't find a station and Izzy said he only had about 30 miles left in his tank. We were able to find a station and got gas in Saint Jo (about 16 miles from Montague). We then headed south to the sculpture (about 3 miles south of 82 on 677).
Stretching Rick (Shadow 1100) may have involved choosing roads that weren't as straight as he normally chooses. I'm guessing this based on his comment about how he was having to work his Shadow to keep up. Yet I had been taking it easy because I knew Izzy hadn't been riding long and didn't know Rick's background; setting the good example as it were. [Personally I felt that most of my lines could have been much better. That wasn't unexpected after being off the bike while waiting for the shock to come back from Wilbers.] I was trying to keep well within what I consider the comfort zones of someone with average skills. I kept the speeds down and, on 455 between Forestburg and Montague, was well below the posted limit because I was leaf peeping and looking for the ranch art (in the wrong place it turns out).
After the photo op, we stopped in Muenster for some good German food. Rick had the Reuben sandwich, I had the Jeger Schnitzel and Izzy had the chicken fried steak. Everyone seemed to be pleased with the quality of their choices.
Route (This is a highly-guarded secret, so don't tell anyone):
I35 to 114
114 W to 370
370 N to Decatur (very nice section here)
51 N to 455
455 W to Montague (455 is good all the way from Plano to Montague)
82 E from Montague to Saint Jo (gas)
83 W to 677
677 S to sculpture
677 N to 82 again
82 E to Muenster (late lunch)
82 E to i-35 (Gainesville)
I-35 straight shot to home
Left around 11:30
Got back about around 4:30
Temperature was in the high 70's with scattered clouds. Year 'round riding weather is our friend!
The Wilbers shock is great even if it was a little harsh. I was running without the saddle bags or any of the additional load that I normally have packed on the bike (tire patch kit, a few tools, etc.). But since this is the first time I've gone out that way (bagless) since buying the bike back in 2002, I'd consider it well bellow "average weight". The shock is designed for loads between what I call "typical" and up to a rally/long trip load (maybe even a fuel cell eventually). With that additional weight, I expect it to be spot on!
All material on this site (c) 1995 - Present. Mark Johnson. All rights reserved.