Jastek Powerlet Kits
(front and rear)
I got up at 5 am (on a Saturday), so that I could help out with the stage crew for my lodge, I got home around 2 pm and got to work installing the rear power port kit from Jastek. The outlet was easy to install. The instructions were nearly perfect. It says to use the spacers for the saddle bag "tab" but doesn't say which side of the tab. Place the additional spacers for the "tab" between the frame and the tab - not between the tab and its retaining bolts.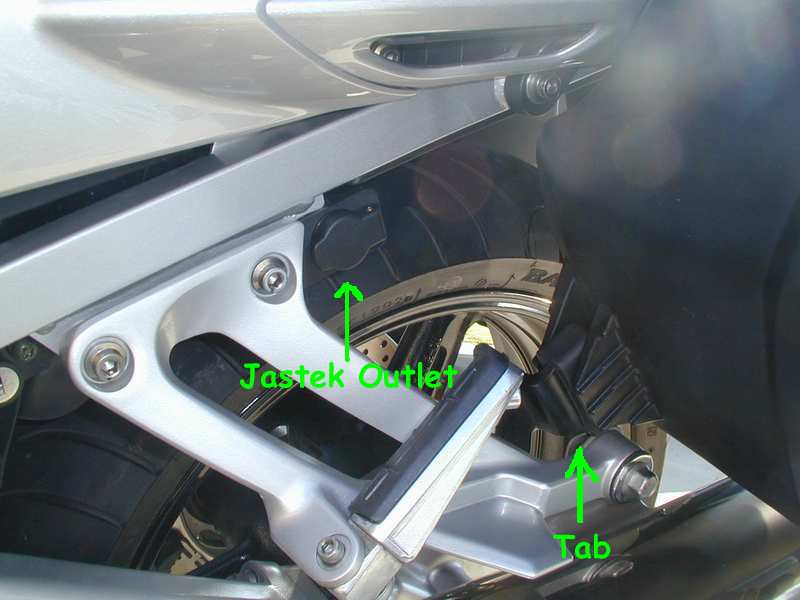 Rear Port
The finished product looks like it was meant to be there.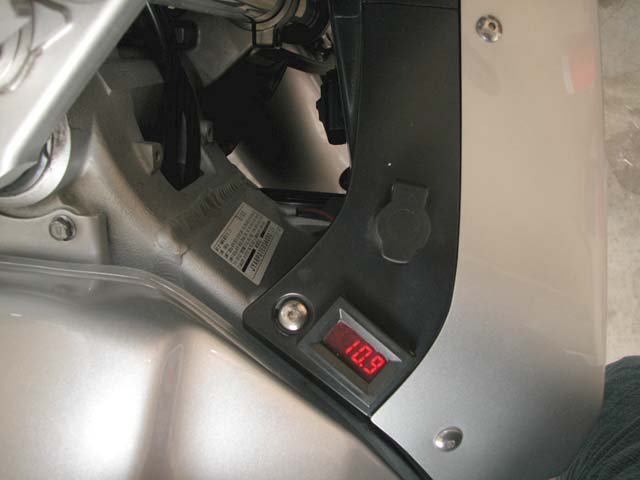 Front Port (Above Datel Volt Meter)
The front connector is shown in the above photo ("Panel D").
A comment about Jastek. When I originally ordered a couple of "kits" my FJR was still just a picture in a magazine. At the time, Jastek didn't have an FJR-specific kit, so I ordered a couple of VFR kits (figuring they'd have plenty of wire to reach where I planned on installing the plugs). I wanted to install the plugs, anticipating a trip planned this weekend into the face of another cold front (luv me my Widders). Before starting I took a quick look at the Jastek web site and learned they had since developed a couple of FJR-specific kits (better locations than I was planning). A quick call and and we worked out the details to ship me (overnight) the 2 FJR kits. It's my nickel for the overnight fees but no additional mark up. They held any charges to my card until my UPS ground return of the 2 VFR kits gets to them. They fully credited me (no restock fees) on the VFR kits; only charging me the difference. They pretty much had someone drop everything they were doing to get those 2 kits over to FedEx in time to get a Saturday noon delivery. On top of that, they called back to let me know the kits were on the way. Not once did they sound put out. They were very courteous and friendly through the whole process. The extra cost for all of this? Only the FedEx Overnight/Saturday/Critical fee; about $15.
The kits arrived on Saturday as promised and I set out in the driveway, in 90° heat, installing a kit that will support heated riding gear.
All material (c) 1995 - Present, Mark Johnson. All rights reserved.