Exhaust Shields
(by Speed Zone Ahead)
There's the long-known Dean Tanji solution as documented at FJR Tech.
Then there is the new, stainless steel solution that's recently seen mention by one or two forum members. This new entry by Speed Zone Ahead is big and relatively untested (no reports until now). Their web site lists them for $60. With the Tanji solution being about 2/3rd the cost ($18 each and you need a pair), Speed Zone Ahead (SZA) faces an uphill struggle to win hearts and minds.
The SZA Exhaust Shields have 2 major differences. They are big (a plus or a minus depending on the buyer) and they are brushed stainless. A brushed finish may also be a plus or minus depending on the individual. Their stainless construction, smaller production runs, and larger size can account for the price difference.
Knowing that the Tanji solution was out there, I didn't want to overspend for something just because it was bigger. So, I took a chance and bid the minimum ($38.00) on an eBay listing that SZA put on-line prior to lightly spamming the FJR forums through their proxies. No one else bid, so I soon "won" them.
I'm still unsure about this whole spending-money-equals-a-"win" mentality of eBay.
I paid promptly after the bidding closed. The few eBay buys I've made have always gotten some sort of acknowledgement e-mail from the seller. In this case there wasn't any contact from the seller. After 4 days of hearing nothing from SZA, I sent an e-mail to them asking about the status of the order. They responded with:
Your payment was received successfully, (I have had people pay the wrong person by accident sometimes), …and your item shipped out on the 27th [editor's note: 3 days after payment]. I apologize for the no contact, but no news is good news here, you should receive it shortly as it was sent priority via USPS. I hope you like the shields. I have tried to keep them as cheap as I can but laser cut good stainless steel @ 0.50" thick is pricey
I didn't follow the logic either, but a couple of days later the product arrived, so I won't linger on the issue.
The first thing you notice when unpacking the SZA Exhaust Shields is that they are big. Then you notice they are brushed stainless steel. I installed them this past Saturday. They cover the entire mid-pipes between the 2 major bends.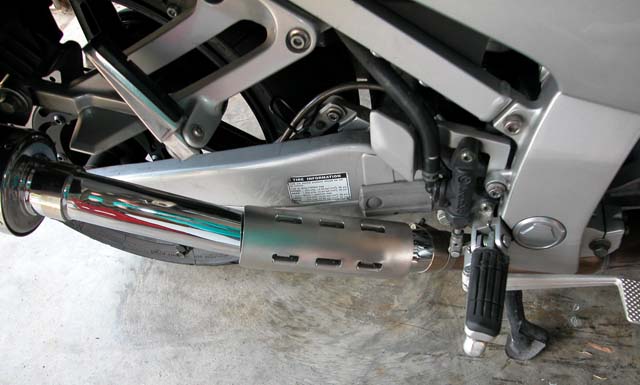 Right Exhaust Shield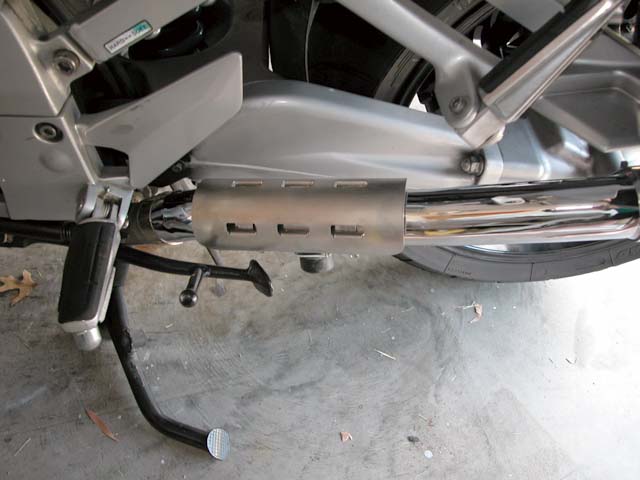 Left Exhaust Sheild
As with the Tanji solution, they install with a pair of hose clamps (per side). I've only put about 150 miles on them so far, so this is hardly a long-term test report. They don't intrude on my feet and don't affect the operation of the center or side stands. They've kept my boot heels off the hot mid-pipes. There's not much more to ask from such things, so that's all good. As long as they stay where mounted (no rotating or falling off), then all's good.
They'll be easy to find if they fall off.
Did I mention that they're big?
---
All material on this site (c) 1995 - Present, Mark Johnson. All rights reserved.